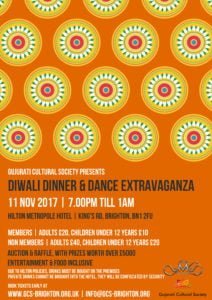 GCS Brighton are pleased to announce details of our annual Diwali Dinner & Dance, which is one of the highlights of our calendar. This year we have our best venue yet – the Hilton Metropole, & the event is set to be bigger & better in every way. Details of the event are as follows:
Date: Saturday 11th November 2017
Time: 7pm Till 1am
Venue: Hilton Metropole Hotel, King's Road, Brighton BN1 2FU
Prices:  Members – £20 adults, £10 children aged under 12, Non-members – £40 adults, £20 children aged under 12
Important note: Due to Hilton Metropole Policy, all drinks must be brought on the premises. Private drinks cannot be brought to the event – they will be confiscated by hotel security.
Enquiries: contact@gcs-brighton.org.uk
Online booking system will be set up shortly.